About the Studio
Unique teaching approach
Yee Music Studio offers a unique program of team teaching. Each student will have a team of excellent, highly trained teachers who are invested in their students' progress and success.
The teachers, each with their unique personality and teaching style, work together to ensure the student receives the very best and most complete education possible. All teachers have been trained to teach a cohesive curriculum unique to this studio.
We are passionate about excellent teaching and we actively pursue learning opportunities to better ourselves and hone our craft. Teaching is a combination of a skill and an art. We are constantly refining both to be able to offer our students the best education in the area.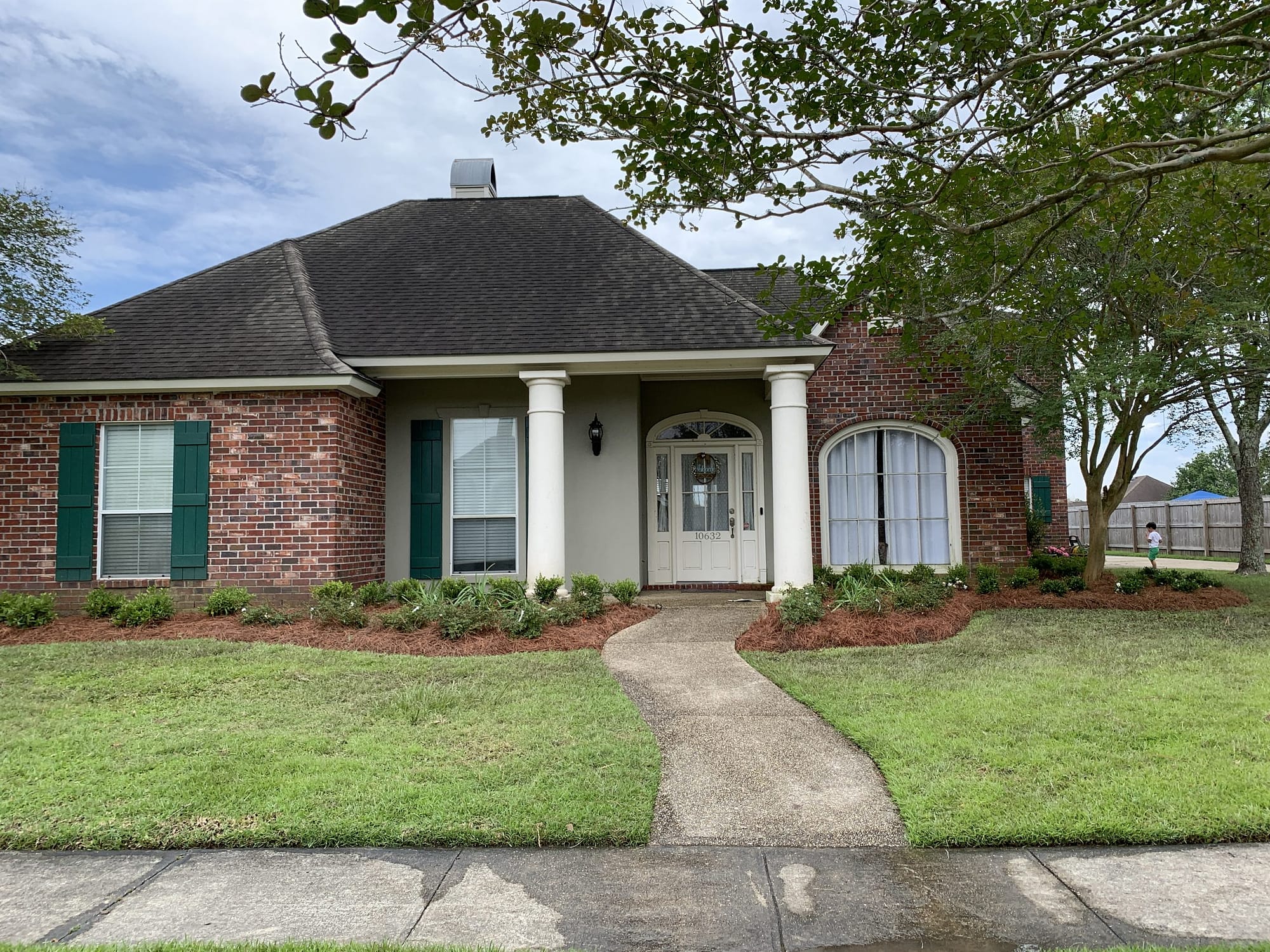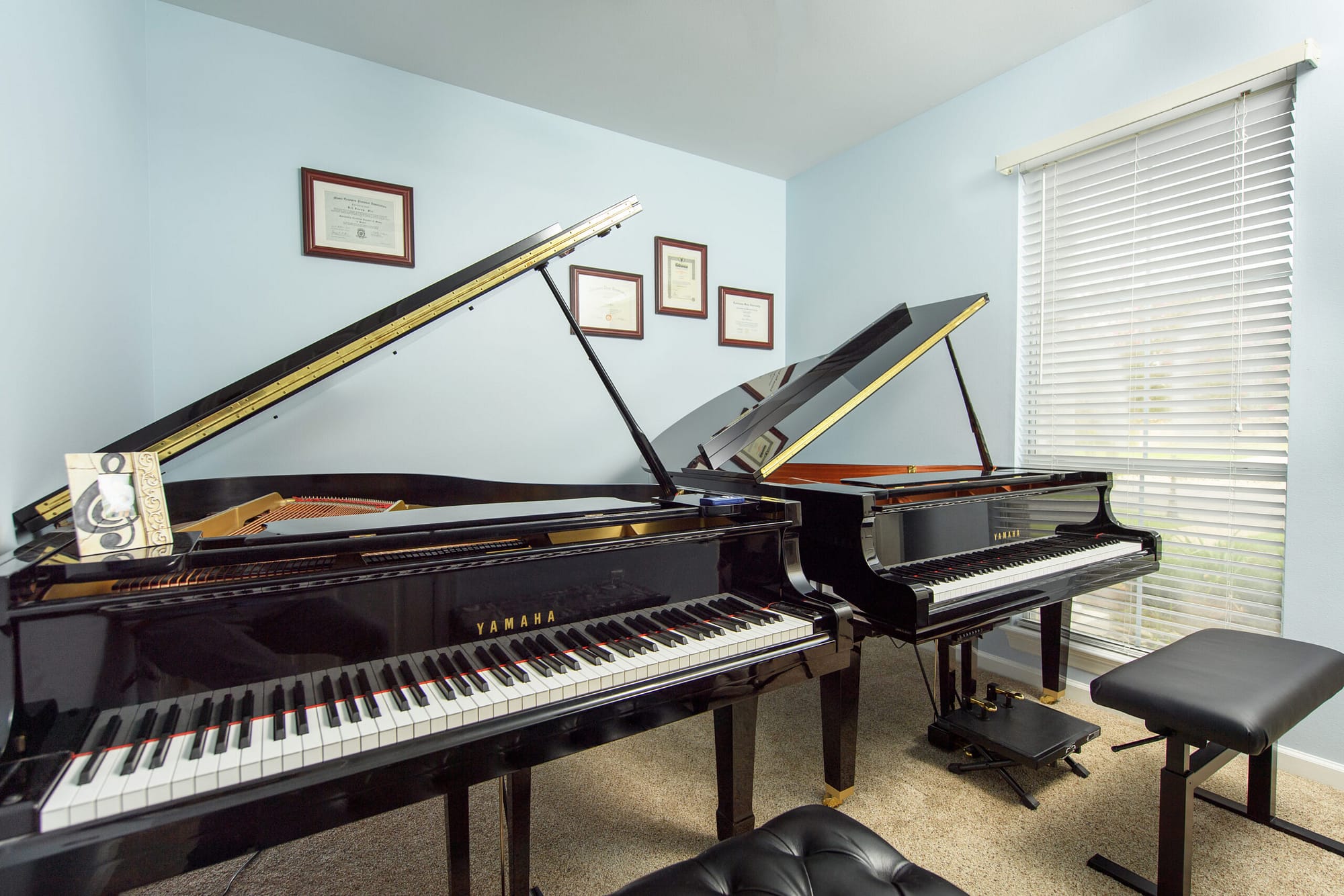 State-of-the-art Equipment
We love our instruments! Our studio has three Yamaha grand pianos and two upright pianos.
We also have two hydraulic adjustable benches and two artist benches that allow students to have the correct posture while playing.
Students who are unable to reach the floor will use an adjustable pedal extender in order keep correct posture and be able to play pieces that require the pedals.
Robin Yee
Robin Bertucci Yee has been teaching piano since 2006. As a mother of five young children, Robin understands the challenges that parents face in engaging their children in learning an instrument. She works to connect with students in a way that inspires and motivates them to work hard and excel.
Mentored by Patti Misita, Robin taught piano throughout her undergraduate and graduate studies. She received both her Bachelor's degree in Piano Pedagogy and a Master degree in Piano Performance from LSU. Her primary teachers in piano were Gregory Sioles and Michael Gurt, and in pedagogy Dr. Victoria Johnson and Dr. Pamela Pike.
After finishing graduate school in 2012, she and her husband Raymond Yee officially began Yee Music Studio. Since then, Robin has taught piano to many students, ranging in age from three years to adult. She is passionate about teaching and loves working with children to inspire a love of excellence and making music at the piano.
Robin is an active member of the Baton Rouge Music Teachers Association, currently serving as Concerto and Ensemble Competition chair. She is also on the board of the Louisiana Music Teachers Association serving as Upper Elementary State Competition chair. In the past, she has served BRMTA as Vice-president, Rally chair, Baroque & Classical Competition chair, and Romantic & Contemporary Tournament chair.
Raymond Yee
Raymond Kit Loong Yee, native of Malaysia, began music lessons in the Yamaha Junior Music Course at the age of four, and began piano lessons at the age of seven. His own experience has shown him that starting music instruction at a young age encourages a life-long love of music.
He obtained his Bachelor degree from University of Malaya, where he won numerous awards. Raymond was awarded the Yamaha Music Scholarship in Asia for two consecutive years.
Continuing his education in the United States, Raymond received his Master degree from Missouri State University in the studio of Dr. Wei-Han Su. Raymond received his Doctoral degree from Louisiana State University in 2014, studying with Mr. Gregory Sioles. While at MSU and LSU, he won first prize in both schools' Concerto Competitions.
During his studies at LSU, Raymond began teaching piano to children in Baton Rouge. He decided to pursue private pre-college teaching as his career and founded Yee Music Studio with his wife Robin. His high expectations and demand for excellence have resulted in success for his students of all ages, many of whom have won top awards in local, state, and national competitions.
Raymond enjoys working in the collaborative field, performing in various chamber recitals and playing for choruses, orchestras, and colleagues' recitals. He is also very active in his local and state associations, serving on the executive boards as Treasurer for both BRMTA and LMTA.
Rebecca Chappell
Rebecca Chappell has had a passion for teaching music for many years. She started gaining experience in teaching during high school and knew she wanted to pursue a career in teaching. She attended LSU to receive her bachelor's in music education with a focus in voice. 
 Rebecca has been involved in music for most of her life. She started piano lessons at the age of 8 and several years later became active in band. She plays the french horn and has experience teaching in both the concert and marching band setting. During her time at LSU, Rebecca was a member of Tiger Band and Bengal Brass where she played mellophone. 
Having a passion for all music, but specifically for voice, Becca was a member of multiple choirs. She performed in LSU Chorale, A Cappella Choir and LSU Chamber Singers. She also performed with LSU Opera and Musical Theater Club. Outside of school, Rebecca has performed with multiple honor choirs and has had the opportunity to perform nationally and internationally.
In her free time, Rebecca loves to watch Disney movies and snuggle up with her cats.  She is crafty and enjoys sewing and crocheting. One of her favorite things to do is meet up with her friends and make a home-cooked meal together. She enjoys traveling with her family, and rarely misses an LSU sporting event.
Molly Cahlink
Molly Cahlink has been performing since she was 4 years old. From a young age she was singing with her mom and making up her own musicals. Originally from the Metropolitan area in DC and Maryland, she moved to Baton Rouge to be a school music teacher.
After working with students one-on-one during Covid, she realized her passion is teaching students in a private studio setting, which she now does fulltime.
Molly obtained her Bachelor in Music with a concentration in Music Education, Voice from James Madison University in 2021. She studied with vocal professor Dr. Lucy Owen Hoyt. She also worked closely with Dr. Jo-Anne van der Vat-Chromy and Dr. Bryce Hayes over her 4 years. While obtaining her degree, she also worked in Music Admissions and served as the American Choral Directors Association President. 
Molly has experience with many instruments including piano, violin, clarient, trumpet, cello, tuba, saxophone, and ukulele. While her main instruments are voice and piano, she is excited to teach many different instruments to students.
Molly cares deeply about making every child feel safe and happy during their lessons, and she enjoys forming an individual relationship with each student she teaches. 
Now settled in Baton Rouge, Molly is actively involved with Theater of Baton Rouge where she enjoys performing in productions. She is also involved in the National Association for Teachers Singing and American Choral Directors Association.  
Nae Rim Moon
Before moving to the United State, Nae Rim Moon attended Myongji University in Korea. She majored in Vocal Performance and was a member of the JW Chorale profession choir. After receiving her undergraduate degree, she moved to Wisconsin and earned her second undergraduate degree from University of Wisconsin in River Falls, double majoring in Vocal Performance and Choral Conducting. 
From there Nae Rim attended Northern Arizona University where she received a master degree in Choral Conducting. She assisted the Women's Chorale and Shrine of the Ages. She is currently a fourth-year DMA student in Choral Conducting at Louisiana State University. In addition to majoring in choral conducting, Nae Rim will be receiving a minor in Music Education as well as a Louisiana K-12 Music Teaching Certification. While studying at LSU she assists with the A Cappella Choir, Chorale, and Tiger Glee Club. 
Nae Rim has a strong love for teaching children. She has taught both piano and voice private and group lessons in all of the cities where she has lived. Her many years of studying music in universities have helped her hone her skills in piano playing, singing, and teaching. She believes in creating a strong foundation in technique from the first lesson, passing along her joy for music to all of her students.
Taylisse Boissonneault
Taylisse attended Houston's elite High School for the Performing and Visual Arts where she also began her teaching career. After graduating, Taylisse attended Louisiana State University, receiving her Bachelor of Music in Piano Performance studying with Dr. Gregory Sioles and Dr. Willis Delony.
Throughout her undergraduate career, she performed solo recitals and numerous composition and ensemble recitals, with an emphasis in performing underrepresented composers and works in the classical field. She also continued teaching children in the Baton Rouge area. 
Taylisse's love for working with other musicians has led her to pursue a Masters degree in Collaborative Piano under full scholarship studying with Dr. Ana Maria Otamendi. In addition to excelling in her studies, Taylisse enjoys using music to bring joy to others. She plays organ for churches, piano for retirement communities and restaurants, and performs in many colleagues' recitals. 
Her passion for music is evident in every lesson she teaches. Taylisse loves helping students achieve high levels of excellence while making lessons fun and enjoyable.
Austin Gatlin
 Austin's musical journey began as a young child growing up in Houston, Texas, along with his twin brother, as they began piano lessons in kindergarten. As his music abilities grew, in 11th grade, he discovered his love for singing and joined the high school choir. There he thrived in music competitions, performing and winning Outstanding Soloist Performance in the Blue Bonnet Festival in San Antonio, Texas. Alongside the choir director, he assisted with teaching music to the kindergarteners. Although he loved to sing, he realized his true passion was teaching music.
At the age of 17, Austin began LSU as a music education major with a focus on vocal performance. During his time at LSU, he taught 9th-grade choir at Catholic High School, 4th-grade music at Mayfair Lab, and kindergarten music at Southdowns Elementary school.
When he was not busy teaching and taking classes, he performed with the LSU Glee club and the Red Stick riffs, the first and only jazz vocal group at LSU. Austin also performed in many shows for the LSU musical theatre club. Outside of school, he was invited to sing at Nicholls State University at their annual Black History Month concert. During his summers, he would return to Houston to play piano favorites for the residents of a high-rise apartment complex as they returned home from a hard day at work.
Austin has a passion for teaching and hopes to instill that passion into his students. Each day he strives to provide memories with music while making lessons fun, exciting, and enjoyable.
History
Robin and Raymond met at LSU during their graduate studies.  Robin had already been teaching in Baton Rouge for several years when she and Raymond decided to start teaching together.  In 2011, they began co-teaching a few students while also maintaining separate studios.  Realizing the exceptional benefits offered through a dual-teacher program of study, they started co-teaching all of their students.  Robin and Raymond were married in 2014 and founded Yee Music Studio.  They now co-teach a full and thriving studio of wonderful pre-college students.
Realizing the benefit multiple teachers offer to students, they expanded their studio to include several other teachers, training them in the team-teaching curriculum.
Robin and Raymond's greatest joy, other than raising their five beautiful children, is teaching beautiful music to dedicated students.  Robin and Raymond love to see their students succeed and excel above and beyond what was thought possible.